Fire/Rescue Station 7 Officially Opens
Post Date:
06/26/2023 10:15 AM
The City of Greenville recently got a little safer when the Fire/Rescue Department officially opened Fire/Rescue Station 7 during a ceremony held on June 21.
The state-of-the-art facility located on Bayswater Road will help reduce response times in one of the city's fastest growing areas while also offering a modern design that will enhance training and provide a safer environment for Fire/Rescue staff.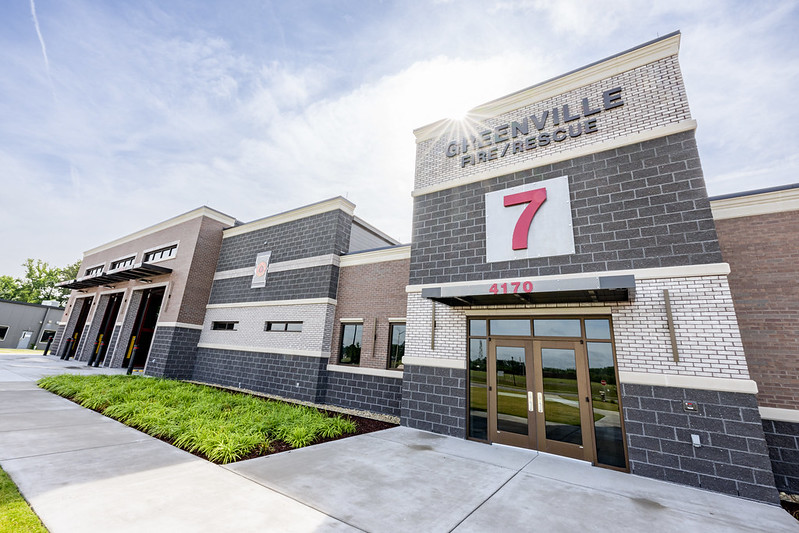 "A fire station is more than just a building," Greenville Mayor P.J. Connelly said. "It is a symbol of preparedness and resilience. It stands as a testament to our City's efforts to safeguard our community."
Fire/Rescue Station 7 includes approximately 14,000 square feet with an apparatus bay featuring three drive through lanes. The station also includes seven private bedrooms with individual employee beds to provide privacy and hygiene. It is also built with a clean design to minimize exposure risks within the station and a 25-person training room.
The station's location was made possible through a land exchange between the City of Greenville and the Overton family, Parker and Becky, and the Lewis family, Harvey and Brenda. The exchange of properties on Bayswater allows for easier access in and out of the station and provides the City with more acreage to accommodate future growth.
"This new station will enhance services in an area of the city that has been rapidly growing in recent years with residential and commercial developments," City Manager Ann Wall said. "While our Fire/Rescue Department has done a tremendous job of servicing the area during that time, the addition of this station will keep the areas as safe as ever."
A community open house for the station was held on June 24, and service from the station officially began on June 26.
Return to full list >>