American Rescue Plan Act Appropriation
The American Rescue Plan Act (ARPA) will deliver $31.34 million in local fiscal recovery funding to the City of Greenville as an infusion of federal resources to turn the tide on COVID-19, address its economic impact on the community, and lay the foundation for a strong and equitable recovery.
Per federal guidance, the local fiscal recovery dollars can be used locally for the following:
Support public health response
Address negative economic impacts
Water and sewer infrastructure
Replace City General Fund revenue loss
Premium pay for essential City workers
Broadband infrastructure
Local fiscal recovery dollars are considered to address the negative economic impact of COVID-19 and to support the public health response when expended within Qualified Census Tracts (QCT). A Qualified Census Tract is a geographic area where 50 percent or more of households are at an income level less than 60 percent of the area gross median income. A map of the Qualified Census Tracts in Greenville is included below.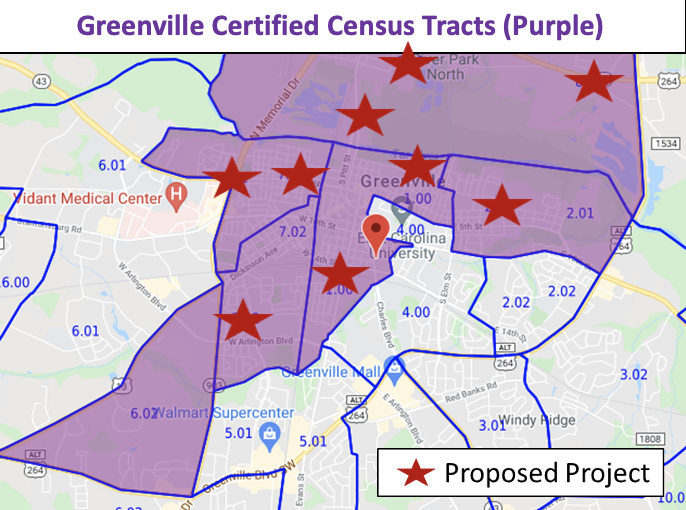 The City of Greenville has proposed a list of projects to be funded with the local fiscal recovery dollars that aligns with the adopted goals of the Greenville City Council and adheres to the federal guidance on spending. Proposed projects include following:
Project

ARPA

Funding

Supplemental

Funding

Total

Funding

Affordable Housing
$1,988.461
$4,000,000
$5,988,461
Transit Funding: Bus stops/Shelters
$662,800
-
$662,800
Small Business/Non-profit Grants
$1,000,000
-
$1,000,000
Street/Sidewalk Improvements
$789,311
-
$789,311
Essential Workers Premium Pay
$300,000
-
$300,000
Guy Smith Stadium Improvements
$10,000,000
-
$10,000,000
Town Common Improvements
$8,000,000
-
$8,000,000
Thomas Foreman Park Expansion
$1,600,000
-
$1,600,000
Trail Connection (TC, RPN, WW)
$3,000,000
-
$3,000,000
Total
$27,340,572
$4,000,000
$31,340,572
*Supplemental funding represents $4 million in Federal Home Program funding set aside by the City to fund affordable housing projects.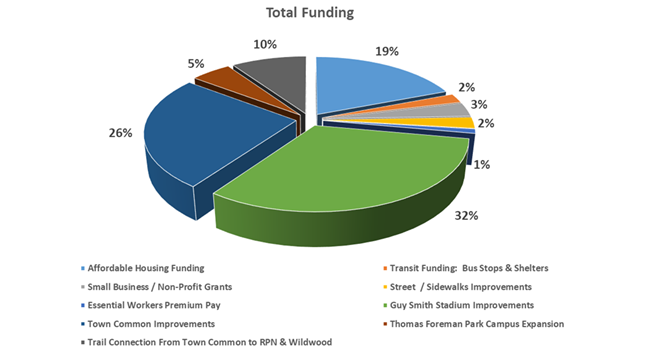 An overview of the proposed ARPA expenditures was presented with details about the proposed projects during a public meeting held on September 30, 2021. A copy of that presentation can be viewed here. The video of the City Council presentation on September 9, 2021 is included below.