Greenways are linear parks. They're a place where people can walk, jog, ride bicycles, and enjoy nature.
The current greenway begins at the Greenville Town Common and winds its way through the university neighborhood along the Tar River before turning towards Green Springs Park where it becomes the Green Mill Run Greenway and meanders along the creek through Elm Street Park to College Hill on the East Carolina University campus.
The Greenmill Run Greenway Phase 2 Extension Project extends the greenway 1.2 miles from its current terminus at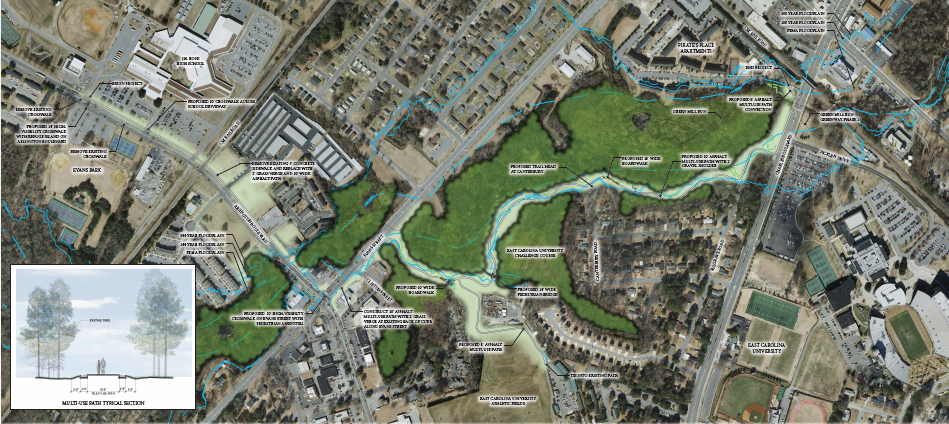 Charles Boulevard to Evans Park on Arlington Boulevard. Trailhead locations are being considered at Evans Street,  Canterbury Road and the ECU athletic fields, depending on availability of funds.
 
Construction is expected to start in the spring of 2015 and be completed by July 2016. Phase 2 diagram
In the other direction, the greenway runs through the paths built into the Town Common until it reaches Pitt Street. South Tar River Greenway Phase 3 – the approximately 1.4 mile project begins at that western terminus and continues along the Tar River to Moye Boulevard at the VA Clinic.
The greenway will pass under the Memorial Drive bridge, which provides generous access to the river.  Trailhead locations are being considered at Contentnea Street and Fairfax Avenue, depending on availability of funds.
Easement acquisition is anticipated to begin in October 2014.  Depending upon the length of time for this phase, construction is tentatively set to begin by mid-summer 2015 and should take 10-12 months to complete.