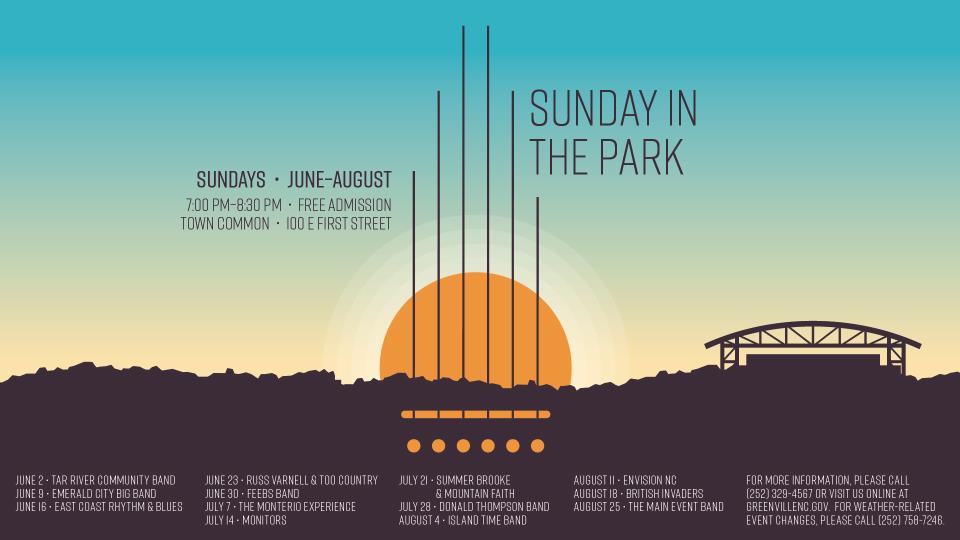 A Greenville tradition since 1973!
Free family fun and entertainment. This summer concert series is held at the Town Common on 1st Street. The 2019 schedule is listed below. All shows are at 7:00pm unless otherwise noted. Vendors on site and pet friendly.
Inclement weather hotline 252.758.7246. If you are interested in becoming a sponsor, please contact Ron Harris at 252.329.4698 or email him for additional information.
---
***For more information on each Artist , please click on the hyperlinks within the description.
June 2-Tar River Community Band
Tar River Community Band is a Greenville Sunday In the Park regular. They are a group of volunteer musicians from the Greenville area. Directed by James Mauser, they specialize in marches, show tunes, jazz, swing and classical music.
June 9- Emerald City Big Band
Emerald City Big Band brings their proud tradition of Big Band and Swing music back to the Town Common stage. A longtime favorite of Sunday In The Park led by Michael Stephens and featuring the wonderful vocals of Emery Davis. A Concert not to be missed.
June 16-East Coast Rhythm & Blues Band
If you Love Beach Music, Motown, Soul and Oldies then East Coast Rhythm & Blues Band is the band for you. Led by the Vocals of Rex Jones and very talented group of musicians , they are sure to get you up "shagging & dancing" with every beat. This band Measures success by the number of feet on the dance floor ... and the smiles on the faces of those having an
unforgettable good time .
June 23-Russ Varnell & His Two Country Band
If You love the Golden Traditional Country then Russ Varnell & His too Country Band are the band for you.Led by Russ Varnell, this band takes you back to the wonderful glory days of Country Music. If you Love Buck Owens, Porter Wagoner, Dwight Yoakam, Derailers, Del Reeves, & Dale Watson, then you will be in the right place for this concert. Russ has performed on stage several times with Buck Owens , and he honors and keeps alive the tradition of real country music..
June 30-FEEBS Band
Coming to you from out of Wilmington NC, the FEEBS Band is one of the hottest new Rock,Jazz, Blues, & Funk bands to come on the scene the past few years. with everything from Skynyrd , Fleetwood Mac to Norah Jones, Please don't miss this band. They have something for all to hear.
July 7-The Monterio Experience
Wow every time I hear this band ,it's nothing but excitement. The Monterio Experience led by the powerful vocals of Eric Monterio will pull you in and get you moving. if you like Marvin Gaye, Stevie Wonder, Bruno Mars, Maci Gray, with maybe some Doobie Brothers thrown in, then this is the concert for you. Don't miss Eric and this great group of talented musicians.
July 14- The Monitors
Performing an array from early Jazz to Rhythm and Blues, The Monitors have been a Sunday in the Park crowd favorite for over 40 years. They are known to get large audience participation for the Electric Slide and other dances.
July 21-Summer Brook & Mountain Faith
Ladies, gentlemen and kids do not miss this show. Summer Brooke & Mountain Faith a semi-finalist on America's Got Talent, & have performed multiple times at the Grand Ole Opry. They have performed in Qatar for our troops, & performed 150 shows per year. If you love bluegrass, progressive bluegrass, & roots music this is the band for you. Led by the beautiful voice of Summer McMahan & talented brother Brayden McMahan they have pleased audiences all over the world. They are Mountain Fever Records recording artist. See you at this great show!
July 28-Donald Thompson Band
Donald Thompson Band delivers rousing versions of blues, vintage rhythm 'n' blues and classic rock, entertaining and delighting audiences of all ages wherever they go. The band's colorful stage attire harkens back to the "cool threads" worn by the performers in the legendary days of vinyl records. Couple this look with dynamic vocals, hot guitars, wailing harmonica, rocking piano & Hammond organ, and in-the-groove drumming and you've got a treat for both the eyes and the ears. The Donald Thompson Band was selected to perform on the Smithsonian Institution's New Harmonies: American Roots Music tour also. Do not miss this colorful rocking show.
August 4-Island Time Band
From out of Raleigh North Carolina we bring you the Island Time Band . If you love Trop Rock, Reggaeish, Island Rock, & Nautical Themed music, then this is the band for you. covering such artist as Little River Band, Jimmy Buffett, Jay Ferguson, Grand Funk Railroad, Journey to name a few. Are you ready for cheeseburgers in paradise? Then bring your flip flops to the Town Common.
August 11-Envision
Are you ready for one of the best party bands on the East Coast? Then get ready for Envision ! bringing you "Top Notch" quality entertainment and an awesome stage show. Covering hits from the 60's, 70's & 80's all the way through today's top 40 hits. R&B, Motown, Beach, & Top 40 , you name it, and get ready to groove with this wonderful party band.
August 18-The British Invaders (British Rock Tribute)
If you love the sounds of the Sixties classic rock then The British Invaders are the band for you.Covering all the classic British artist such as The Beatles, The Who, The Kinks, The Moody Blues, The Hollies, Dave Clark 5, The Yardbirds, Cream, Herman's Hermits, as well The Monkees. This will be a great tribute to the invasion that brought us great music from across the sea. Hope to see you here!
August 25-The Main Event Band
No better way to end the summer than with Greenville's own Main Event Band. Another awesome party band from right here in our back yard. They have been pleasing audiences all over the east coast for years. Led by Al Woodruff on lead guitar and vocals and a tight rhythm section, this is a band not to be missed. Come end the 46th year of Sunday In The Park on a HIGH note!