The City Manager is the chief administrative officer for the City. The Manager is responsible for the day-to-day operations of the City and the implementation of the policies established by the elected officials. The City Manager is appointed by and reports to the City Council.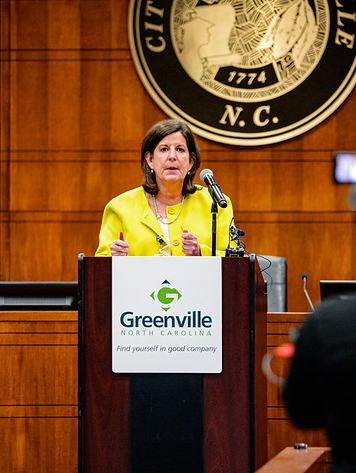 Ann E. Wall began her tenure as Greenville's City Manager on August 1, 2017. During her time in Greenville, Wall has provided direct oversight over the Police and Fire/Rescue Departments along with the City's Public Information Office and the Office of Economic Development. Among Wall's most significant accomplishments in Greenville is playing a vital role in the establishment of Pitt County's first-ever, public-private economic development partnership, the Greenville ENC Alliance.
Highlights from Wall's career prior to joining the City of Greenville include:
Three years as the assistant city manager for the City of Charlotte where she managed the departments of Fire, Police, Housing and Neighborhood Services, and Community Relations including 3,600 employees and budgets totaling more than $350 million.
Three years as the assistant city manager for the City of Rocky Mount, North Carolina where she managed a wide range of departments including Human Resources, Human Relations, Parks and Recreation, and the Department of Water Resources and Public Works.
More than seven years as the Director of Planning and Community Development for the City of Rocky Mount.
Eight years as the Budget and Evaluation Manager for the City of Rocky Mount.
More than three years as the assistant city manager for the City of Oviedo, Florida.
Nearly one year as the Budget Analyst for the City of Orlando, Florida.
More than three years as the Management Analyst and Personnel Director for the City of Kinston, North Carolina.
She received her master's degree in Public Administration from the University of North Carolina at Chapel Hill and a bachelor's degree in City Planning from the University of Virginia. Wall is a member of the International City/County Management Association (ICMA) and the North Carolina League of Municipalities. (NCLM). She serves on the NCLM Planning and Environment Legislative Action Committee.