What is crime analysis?
Crime analysis is the systematic evaluation of crime and disorder within a jurisdiction. This quickly growing field of study is being implemented across the nation. The use of crime analysis enables police departments to allocate and deploy resources in a more efficient, proactive manner. The use of crime analysis assists police in crime suppression and prevention, criminal apprehension, and evaluation. The central focus of the crime analysis unit is the study of crime (e.g. assault, robbery, burglary, larceny); quality of life concerns (e.g. suspicious activity, juvenile complaints, noise complaints); and information related to the offense, offenders, and victims or targets of crime.
The crime analyst identifies current crime series and patterns, as well as strategically analyzes long-term patterns of crime and disorder throughout the city. The increase in analytical software allows the analyst to identify "hot spots" of crime where officers can then be deployed strategically. "Hot spots" may by crime specific hot spots, repeat problem addresses, or repeat offenders, to name a few. Pertinent and timely information is relayed to the patrol, investigation, and administrative departments to assist in the efficient allocation of resources, aide in the investigation process, and identify offenders. The data-driven nature of the field allows the crime analyst to be central in developing long-term strategic plans along-side officers such as a burglary prevention campaign or street level drug reduction operation.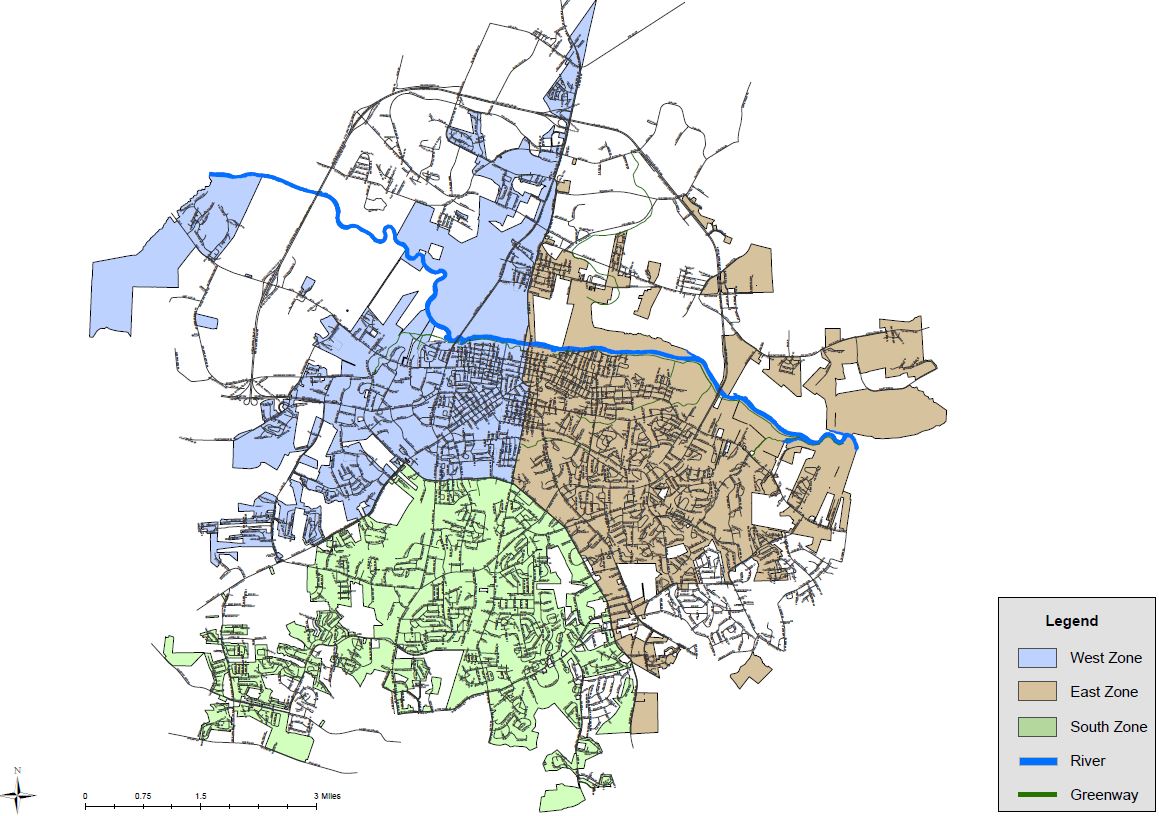 Zone Lieutenant Contacts:
West Zone, Captain K.Z. Thomas
South Zone, Captain Tara Stanton
East Zone, Captain Michael Montanye
Historical Crime Trends:
*2022 numbers are preliminary and may vary (+/-) 0.5-1.0% pending adjustments, outstanding cases, etc.


DDACTS:
Data-Driven Approaches to Crime and Traffic Safety (DDACTS) is one long-term strategic method Greenville Police has implemented. DDACTS deploys law enforcement in an effective manor by integrating crime and crash data in a location-based method. This strategy uses highly visible targeted traffic enforcement that not only reduces traffic violations and accidents, but also criminal activity. Every six months the DDACTS area is evaluated and may be moved to reduce crime and accidents in another location if deemed necessary. Violent crime, quality of life concerns, accidents, and accident related offenses have been reduced significantly in the designated area since its implementation in July of 2013.
Additional Information:
Community Crime Mapping - Research crime in your area!
Contact Information:
For information concerning crime statistics for a specific area please email crime analyst Logan Magnussen.
If you need a copy of a police report or accident report, please contact the Records Division at 252.329.4325.
If you have questions about neighborhood crime prevention efforts or you are interested in starting a Community Watch program in your neighborhood, please contact the Crime Prevention Unit at 252.329.4339.