Community Crime Map!


Stay up-to-date

with reported crime in your neighborhood and throughout the City of Greenville!
What is crime analysis?
Crime analysis is the systematic evaluation of crime and disorder within a jurisdiction. This quickly growing field of study is being implemented across the nation. The use of crime analysis enables police departments to allocate and deploy resources in a more efficient, proactive manner. The use of crime analysis assists police in crime suppression and prevention, criminal apprehension, and evaluation. The central focus of the crime analysis unit is the study of crime (e.g. assault, robbery, burglary, larceny); quality of life concerns (e.g. suspicious activity, juvenile complaints, noise complaints); and information related to the offense, offenders, and victims or targets of crime.
The crime analyst identifies current crime series and patterns, as well as strategically analyzes long-term patterns of crime and disorder throughout the city. The increase in analytical software allows the analyst to identify "hot spots" of crime where officers can then be deployed strategically. "Hot spots" may by crime specific hot spots, repeat problem addresses, or repeat offenders, to name a few. Pertinent and timely information is relayed to the patrol, investigation, and administrative departments to assist in the efficient allocation of resources, aide in the investigation process, and identify offenders. The data-driven nature of the field allows the crime analyst to be central in developing long-term strategic plans along-side officers such as a burglary prevention campaign or street level drug reduction operation.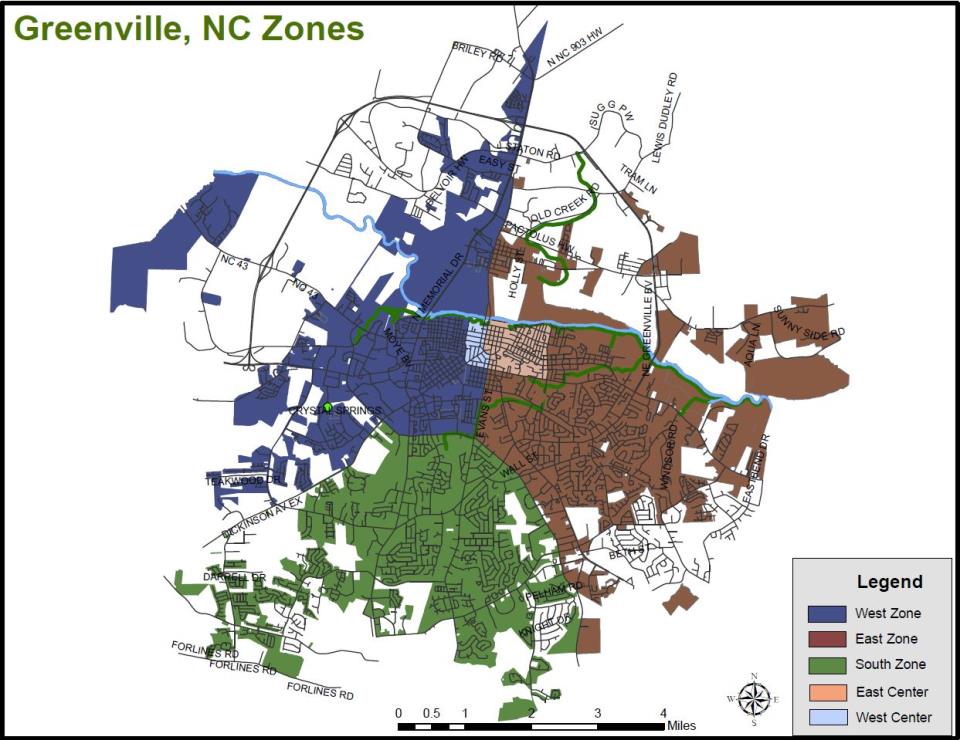 Zone Lieutenant Contacts:
Historical Crime Trends:
*2018 numbers are preliminary and may vary (+/-) 0.5-1.0% pending adjustments, outstanding cases, etc.


Crime Reduction Initiative Areas (CRIAs) is one method in which Greenville police patrol the city in a proactive manor using "hot spot" approaches. Research indicates that focusing police effort in small, high-crime areas using historical and current data will significantly reduce crime in these designated locations, as well as the immediate surrounding areas. Every six months the CRIAs are evaluated and may be moved if deemed necessary.
DDACTS:
Data-Driven Approaches to Crime and Traffic Safety (DDACTS) is one long-term strategic method Greenville Police has implemented. DDACTS deploys law enforcement in an effective manor by integrating crime and crash data in a location-based method. This strategy uses highly visible targeted traffic enforcement that not only reduces traffic violations and accidents, but also criminal activity. Every six months the DDACTS area is evaluated and may be moved to reduce crime and accidents in another location if deemed necessary. Violent crime, quality of life concerns, accidents, and accident related offenses have been reduced significantly in the designated area since its implementation in July of 2013.
Neighborhood Patrol Areas:
Neighborhood Patrol Contacts:
1 - Oakegrove & Countryside Estates
2 - Paladin Dr., Brighton Park & Treybrook Apartments
3 - Roundtree Dr., Duber-Laney, Country Manor & Westhills
4 - Park West, Westpointe, Greenpointe & Stanton Pointe
5 - Ellsworth, Spring Forest, Breckinridge, Lakeside
6 - Riverdale, S. Memorial Dr. to Hudson St from W. 5th St. to Douglas Av.
7 - Riverdale & Greenville Heights, Hundson St. White St. from Fairfax Av. to Ward St.
8 - Skinnerville, Vance St. to Elizabeth St. from Fairfax Av. to W 5th St.
9 - Lincoln Park, North Pines & Biltmore
10 - Village Grove & Higgs Brothers
11 - S. Memorial Dr. to Skinner St. from Cozart St. to W. Arlington Bv.
12 - W 14th St. to W. Arlington Bv. from Beatty St. to Evans St.
13 - Glen Arthur
14 - Tar River Estates & Wilson Acres
15 - College View
16 - Colonial Heights
17 - Pinebrook
18 - University Manor Apartments
19 - Elkin Ridge
20 & 21 - Treasure Cove, Laura Ln., David Dr. & Adam Bv.
22 & 23 - Quail Ridge & Scarborough
24 - Carriage House Apartments
25 - Madison Apartments
26 & 27 - The Bellamy Apartments & Kittrell Farms
28 - Rosemont Apartments
29 - Summerhaven & Tower Village Apartments
30 - Hartford, Plantation Apartments, Sandi Villas, Ivey Court, Sheraton Village
31 & 32 - Sedgefield Dr., Concord Dr. & Horseshoe Dr.
33 & 34 - Ridge Place & Winslow Pointe
35 - University Suites and Carolina Cove Apartments
36 - Greenbriar
37 - Clubway Apartments
38 - Summer Place Apartments
39 - Rollinwood
40 - Kristin Dr. & Frontgate Dr.
41 - Edgewood Mobile Home Park
42 - Oakdale
43, 44 & 45 - Sterling Pointe Townhomes & Patton Circle
46 - South Square & South Pointe
47 - Greenfield Terrace
48 - W 5th St to Farmville Bv., Tyson St. to Albemarle Av.
49 - Farmville Bv to Broad St, Manhattan Av. to Grande Av.
Additional Information:
Contact Information:
For information concerning crime statistics for a specific area please email crime analyst Logan Magnussen or call 252.329.4103.
If you need a copy of a police report or accident report, please contact the Records Division at 252.329.4325.
If you have questions about neighborhood crime prevention efforts or you are interested in starting a Community Watch program in your neighborhood, please contact the Crime Prevention Unit at 252.329.4339.