Have you noticed these signs at any of our substations? The Greenville Police Department has designated several "Internet Exchange Zones" throughout the city to help mitigate the risks associated with online exchanges.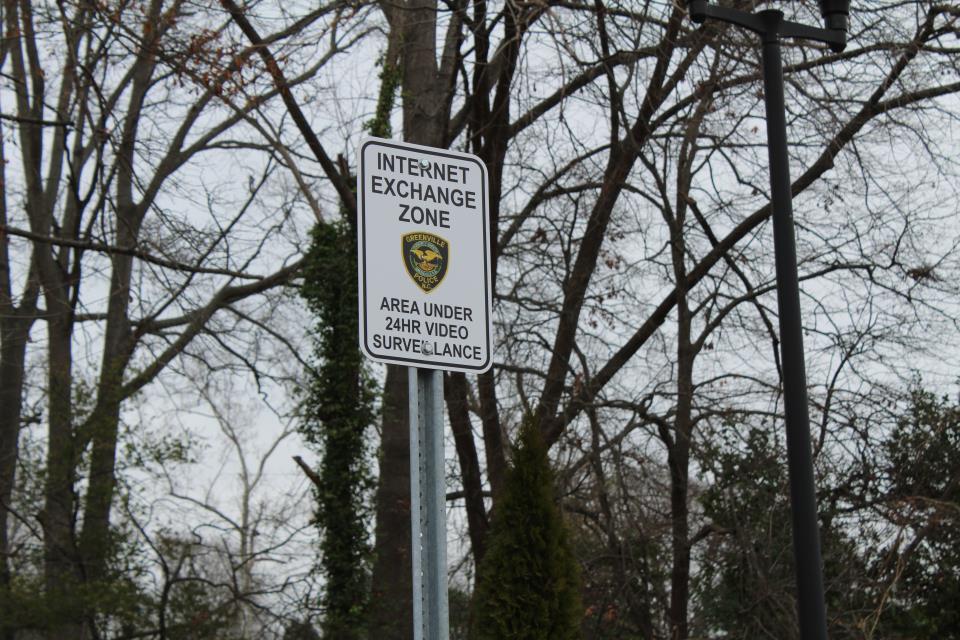 In November 2016, GPD responded to at least five robberies related to mobile marketplace apps. One of the apps commonly used in the robberies was "Let Go." In many cases an individual posing as a potential buyer would lure a legitimate seller into a neighborhood and subsequently rob them of their belongings. In some cases, victims were held at gunpoint. The Greenville Police Department made several arrests in these cases but officers wanted to take a more proactive approach to prevent similar crimes from occurring in the future.
Designated "Internet Exchange Zones" have been set up outside each of the three Greenville Police Department substations. The concept has already been successful for neighboring police departments in Farmville and the Raleigh area. Although we cannot guarantee an officer can be present for every exchange, each of the areas are under 24-hour video surveillance. Those wishing to make an exchange may also do so in the lobby of any of our substations between the hours of 8AM-5PM. Addresses for the substations are as follows:
West Zone Substation: 1024 W. 5th Street
East Zone Substation: 3195 Suite A, E. 10th Street (behind Little Caesar's Pizza and GK Café)
South Zone Substation: 728 Southwest Greenville Boulevard (in the Greenville Grande shopping center)
The Greenville Police Department would like to issue a friendly reminder that anytime you meet a stranger to exchange merchandise there are risks involved, regardless of the location. When making online exchanges, arrange to meet during the daytime hours. Never go into a neighborhood unless you're familiar with the person you are meeting and the neighborhood. If you choose not to utilize one of the Greenville Police Department's Internet Exchange Zones, arrange to meet at a well-populated, commercial location. If the person you are meeting doesn't want to exchange items at the police department, it's a good indicator that you shouldn't meet with that person at all.