Frequently Requested Contacts
To inquire about a crash or case report:
All crash reports are posted within 5-7 business days. Case reports are typically posted online the next business day. All reports can be found here: Records and Permits. If you do not see your report after this time period please contact the GPD Records Division: 252-329-4325.
To inquire about a red light camera ticket:
Please review the back of your ticket or visit the Greenville, NC Red Light Camera Program website for information. All questions regarding red light tickets should be directed to respectthered@greenvillenc.gov or 252-329-4188.
To make a community appearance request:
If you would like an officer to make an appearance at your community event, please contact Ms. Devinder Culver: dculver@greenvillenc.gov or 252-329-4180. Due to the volume of requests we receive, we require at least four weeks advanced notice for a community appearance request to be considered.
For media inquiries:
All members of the media should contact PIO Kristen Hunter: khunter@greenvillenc.gov or 252-329-4372.
For public records requests:
All public records requests are handled by the City Attorney's Office. Please email Attorney Donald Phillips: dkphillips@greenvillenc.gov or 252.329.4426
For questions about careers with the Greenville Police Department:
Please contact our recruiting officers: joingpd@greenvillenc.gov or 252-329-4102.
ABOUT US
The Greenville Police Department is a nationally accredited law enforcement agency that provides a full range of high quality law enforcement services through a departmental philosophy of community-oriented policing. As a growing, progressive agency the Department continuously implements innovative techniques and methods to protect and serve the expanding community. This highly motivated department currently employs more than 200 sworn employees and 53 civilian employees who serve with the utmost professionalism in the various bureaus, divisions and units.
MISSION STATEMENT
The Greenville Police Department exists to enhance public safety and quality of life, in partnership with all people in our community, by preventing crime with honor and integrity.

CHIEF MARK HOLTZMAN
Mark Holtzman joined the Greenville Police Department in September 2015 as Chief of Police. Holtzman is no stranger to law enforcement, having spent 24 years with the Hagerstown, Maryland Police Department. A graduate of the University of Baltimore, he quickly advanced through the ranks and most recently served as Chief of Police in Hagerstown before accepting the opportunity to serve in the same capacity in Greenville.
Holtzman's varied background in neighborhood and data-driven policing has proven to be a tremendous asset for the Greenville Police Department. A forward-thinking and solution-oriented chief, Holtzman believes in addressing "real issues" facing neighborhoods to reduce the fear of crime and improve quality of life. He has a passion for changing the reputations of neighborhoods and finding unique solutions to longstanding issues.
During his time thus far with the Greenville Police Department, Holtzman has implemented a number of projects and initiatives aimed at decreasing crime and improving quality of life. Some noteworthy accomplishments include the creation of a gun violence reduction unit; the implementation of "Cops and Barbers," a nationally-recognized program highlighted by the White House as part of a progress report on police-community relations; the rebirth of several youth initiatives; the implementation of red-light cameras and local pedestrian-safety ordinances; advocating for a city-wide LED lighting project; as well as proposing statewide hate crime legislation. Holtzman acknowledges the effective delivery of public safety can only be accomplished through a department's partnership with the community they serve.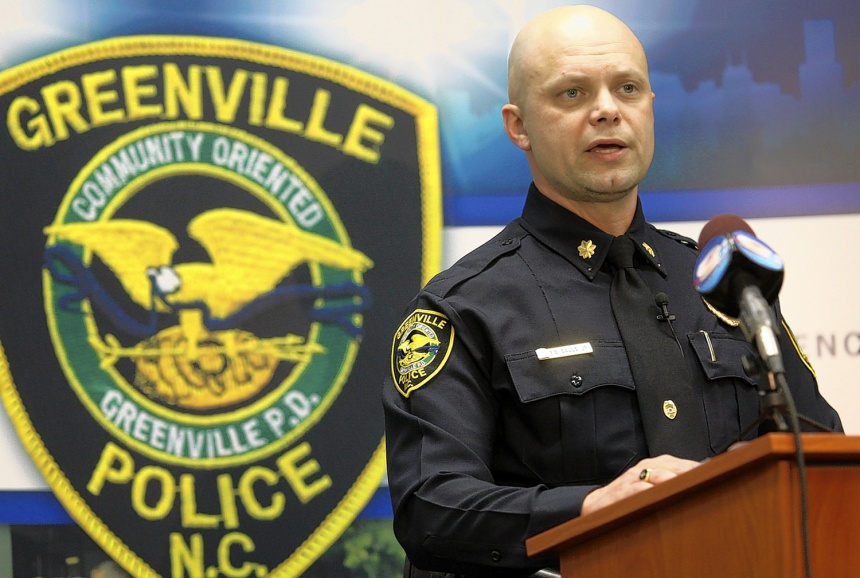 DEPUTY CHIEF TED SAULS
Deputy Chief Ted Sauls is a native of Greene County. Deputy Chief Sauls attended East Carolina University earning a Bachelor of Science degree in Criminal Justice in 1997. During his internship with the Greenville Police Department he was accepted into the first class of a new program developed by the Governor's Crime Commission known as "Police Corp." Following graduation from East Carolina he attended Basic Law Enforcement Training, as part of the Police Corp initiative, at the North Carolina Justice Academy in Salemburg, N.C. Since graduating from Basic Law Enforcement Training he has served the Greenville Police Department in various positions. During 2009 Deputy Chief Sauls was promoted to Captain. Sauls has served as a Commander within the Administration Bureau, Patrol Bureau and currently serves as the department's Deputy Chief. Deputy Chief Sauls is also a graduate of the FBI National Academy, 241st session in Quantico, VA.