City Cuts Ribbon for New Phase of Greenway
Post Date:
03/23/2017 8:22 AM
GREENVILLE, N.C. — Greenville's residents have a new stretch of greenway to enjoy after City leaders officially opened Phase II of the Green Mill Run Greenway with a ribbon cutting on Wednesday.
The newest stretch is a 1.3 mile path along the Green Mill Run that stretches from Evans Street near Clifton Street to Sulgrave Road off of Charles Boulevard where it connects with the East Carolina University stadium section and, eventually, Elm Street. It also provides a trail to the Blount Recreational Sports Complex on Curry Court.
'It is a beautiful greenway, and the City is really proud of it," Public Works Director Kevin Mulligan said.
After nearly two years of construction that was delayed several times by weather and the challenges of working through wetlands, City officials were pleased to see Wednesday's ribbon cutting finally arrive. Joining them in the celebration were representatives from the City's Bicycle and Pedestrian Commission, ReLeaf of Greenville, and the Friends of Greenville Greenways.
The Public Works Department oversaw the $1.8 million construction of the project, and the Recreation and Parks Department will maintain the greenway. Greenville's greenway system now consists of more than nine miles.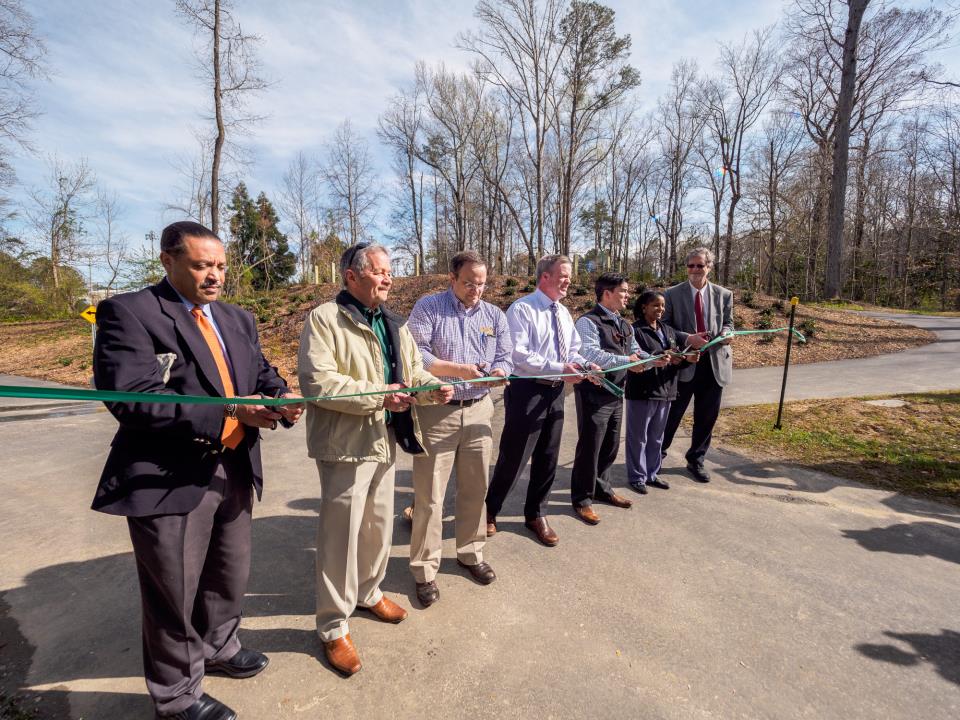 Return to full list >>