COVID-19 Updates & Resources
North Carolina Governor Roy Cooper has further eased some of the restrictions previously in place due to the COVID-19 pandemic with Executive Order 209 until June 1, 2021 at 5:00 p.m. A copy of the Order is available here.
Here is a breakdown of Executive Order 209:
• Face coverings are required while indoors for anyone over age 5 and recommended for anyone over age 2.
• Indoor gatherings are limited to no more than 100 people and outdoor gatherings are limited to 200 people.
Open Indoors up to 100% Capacity
• Museums
• Aquariums
• Retail businesses
• Salons, personal care and grooming businesses
Open Indoors at 75% capacity and Outdoors up to 100% Capacity
• Restaurants
• Breweries, wineries, and distilleries
• Recreation (e.g. bowling, skating, rock climbing)
• Fitness and physical activity facilities (e.g. gyms, yoga studios, fitness centers)
• Pools
• Amusement parks
Open Indoors and Outdoors up to 50% Capacity
• Bars
• Meeting, reception, and conference spaces
• Lounges (including tobacco) and night clubs
• Auditoriums, arenas, and other venues for live performances
• Sports arenas and fields (including professional, collegiate, and amateur)
• Movie theaters
• Gaming facilities
Guidance from the North Carolina Department of Health and Human Services for businesses, education, child care, law enforcement, housing, individuals, families, and more is available here.

Testing Sites
The Pitt County Health Department through a collaboration with Pitt County Emergency Management and Vidant Medical Center is offering daily community COVID-19 testing. For more information about the locations and times of the free testing, click here.
Vaccine Information
According to the North Carolina Department of Health and Human Services, a tested, safe and effective vaccine will be available to all who want it, but supplies will be limited at first. For more information about vaccines, click here.
City of Greenville Services
City of Greenville offices are open with a modified schedule. Offices are open from 9 a.m. to noon on Mondays, Wednesdays, and Fridays, and 1 p.m. to 5 p.m. on Tuesdays and Thursdays.
When possible, members of the public are still asked to conduct business with the City of Greenville online or by phone. Examples of services that can be conducted online include payments, parking permit requests, building, electrical, mechanical, and plumbing permit applications, employment applications, and building inspection requests. Additionally, residents can submit work requests for issues such as street light repairs, potholes, or missed trash pick-ups by using the City Compass tool.
Below is a list of helpful phone numbers for those seeking to contact City staff.
Citizen Action Line: (252) 329-2489
City Attorney's Office: (252) 329-4426
City Clerk's Office (252) 329-4421
City Manager's Office (252) 329-4432
Engineering (252) 329-4467
Financial Services (252) 329-4444
Fire/Rescue Non-emergency (252) 329-4390
Information Technology (252) 329-4068
Human Resources (252) 329-4492
Planning and Development Services (252) 329-4504
Police Non-emergency (252) 329-4315
Public Information (252) 329-4131
Public Works (252) 329-4522
Recreation and Parks (252) 329-4567
*In the case of an emergency, please dial 9-1-1.
The following changes have also been made to City services, programs, and meetings:
Transit
The Greenville Area Transit (GREAT) bus service hours of operation are 7:15 a.m. to 5:15 p.m. There is currently no Saturday service, and buses are not running from 12:15 p.m.-1:15 p.m each day so they can be cleaned. GREAT will continue to operate with the following procedures in place.

There is no fare to ride until further notice to limit interaction between drivers and riders.
All access on or off of the city buses is from the rear doors. The front doors will open for ADA access only.
Buses are limited to no more than 19 passengers until further notice.
Riders of the GREAT transit system are strongly encouraged to wear masks while riding.
Riders are required to remain behind the red line on buses (six feet from the driver).
Recreation and Parks Operations
The City of Greenville Recreation and Parks Department will continue to follow the guidelines provided by state and local health officials to help staff determine the status of indoor public facilities, departmental programs and events. Here are the latest updates:
Below is a calendar detailing temporary operations for recreation facilities as of March 9, 2021. Please note that indoor facilities at Boyd Lee Park are currently closed due to programming.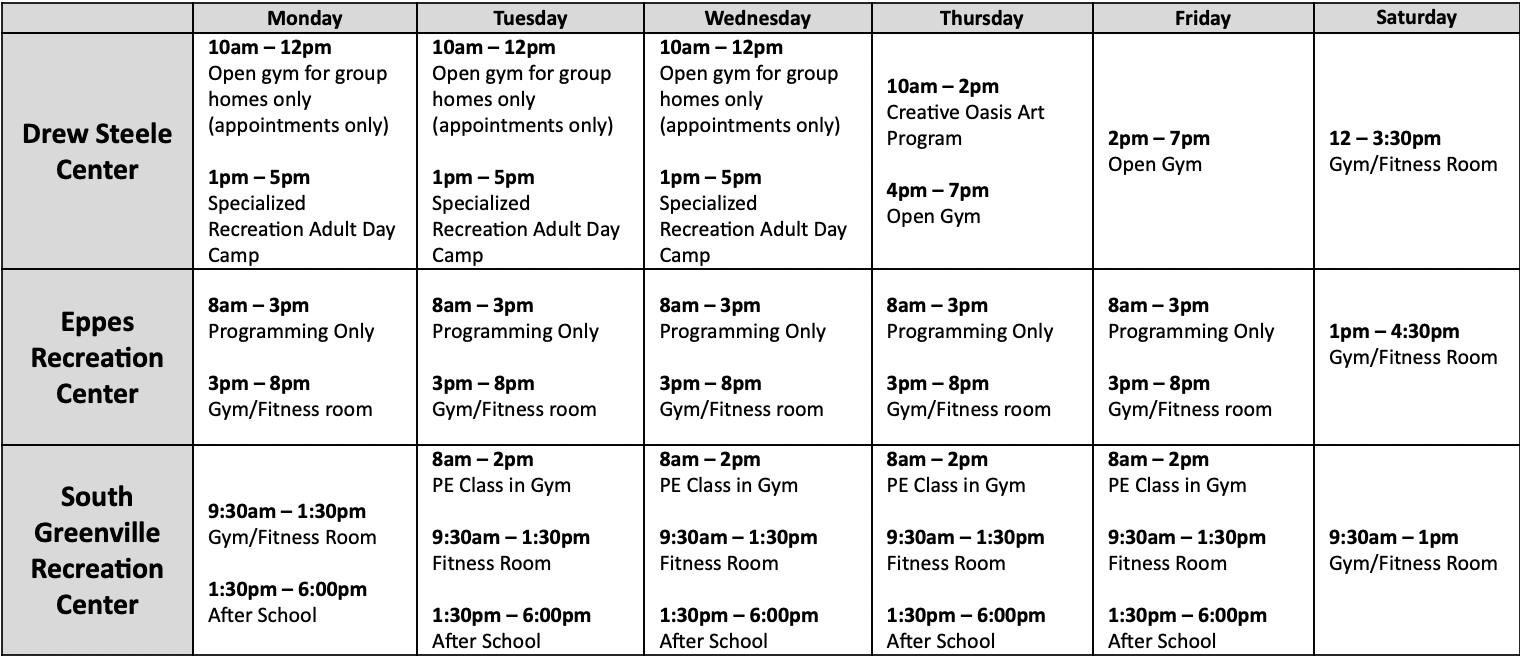 The Jaycee Park Center for Arts & Crafts is open by appointment only. The operating hours are currently Monday–Friday, 10 a.m.– 4 p.m. and Saturday, 12–4 p.m. Appointments are available for 1.75 hour time slots on a first-come, first-served basis. Appointments are available for Pottery Club Members in the Throwing Room and Glaze Room. Appointments are available for patrons in the Craft/Sewing Room and Paint Room. Call (252) 329-4567.
Greenville Aquatics & Fitness Center is open with specific safety measures and capacity limits in place. The facility's pool remains by appointment only. Various exercise classes are beginning to resume but attendance is also limited. Hours are Monday-Thursday 5:30am - 8 pm, Friday 5:30am - 7pm, Saturday 8am – 3pm, and Sunday 1pm – 6pm. Call (252) 329-4041 to learn more.
River Park North outside park amenities are open. The Walter Stasavich Nature Center is open Tuesday-Friday 1 p.m. – 5 p.m., Saturday 9:30 a.m. – 5 p.m. and Sundays 1 p.m. – 5 p.m. Call (252) 329-4560.

Shelter rentals allowed for groups of 50 or less with face coverings encouraged. Call (252) 329-4567.

Building rentals allowed for groups of 25 or less with face coverings required. Call (252) 329-4567.
Athletic fields, tennis courts, Extreme Park, Off-Leash Dog Area, and public restrooms are open during daylight hours.
The fishing pier and kayak launch at the Town Common are open as river water levels allow.
The City continues to encourage the use of open spaces and greenways while maintaining the appropriate social distance.
Should you have questions about any Recreation and Parks Department operations, please email GRPD@greenvillenc.gov and a member of our staff will get back to you as soon as possible.
Additional City Changes:
Sheppard Memorial Library has reopened for limited public access with limited activities. All branches of the library except for Bethel are open from 9 a.m.-5 p.m. Monday through Friday. The main branch on Evans Street is also open 8 a.m.-12 p.m. on Saturday, while the Winterville Library is open 1 p.m.-5 p.m. on Saturday. There is a limit of 20 patrons in the main library, five patrons at the Children's Library (or one family of 5+), and eight patrons at the branch libraries. All children must be accompanied by an adult. There is limited computer access and no meeting room use at this time. Virtual programming will continue, and curbside service will continue at only the branch libraries. All returned items will be quarantined and remain on an individual's account for up to seven days.
If you have specific questions or concerns related to Coronavirus, visit
Business Resources
COVID-19 Information from Across State Government
Business and Community Guide to Resources for COVID-19 Recovery
Business Resources from the Greenville-Pitt County Chamber of Commerce
Business Resources from the North Carolina Department of Commerce
U.S. Small Business Administration Lenders