City Welcomes 16 New Cadets to Fire/Rescue Department
Post Date:
07/26/2021 9:55 AM
Months of studying and training that began in the fall of 2020 paid off for the latest group of Fire/Rescue cadets last month when Fire Academy 14 was officially welcomed to the department.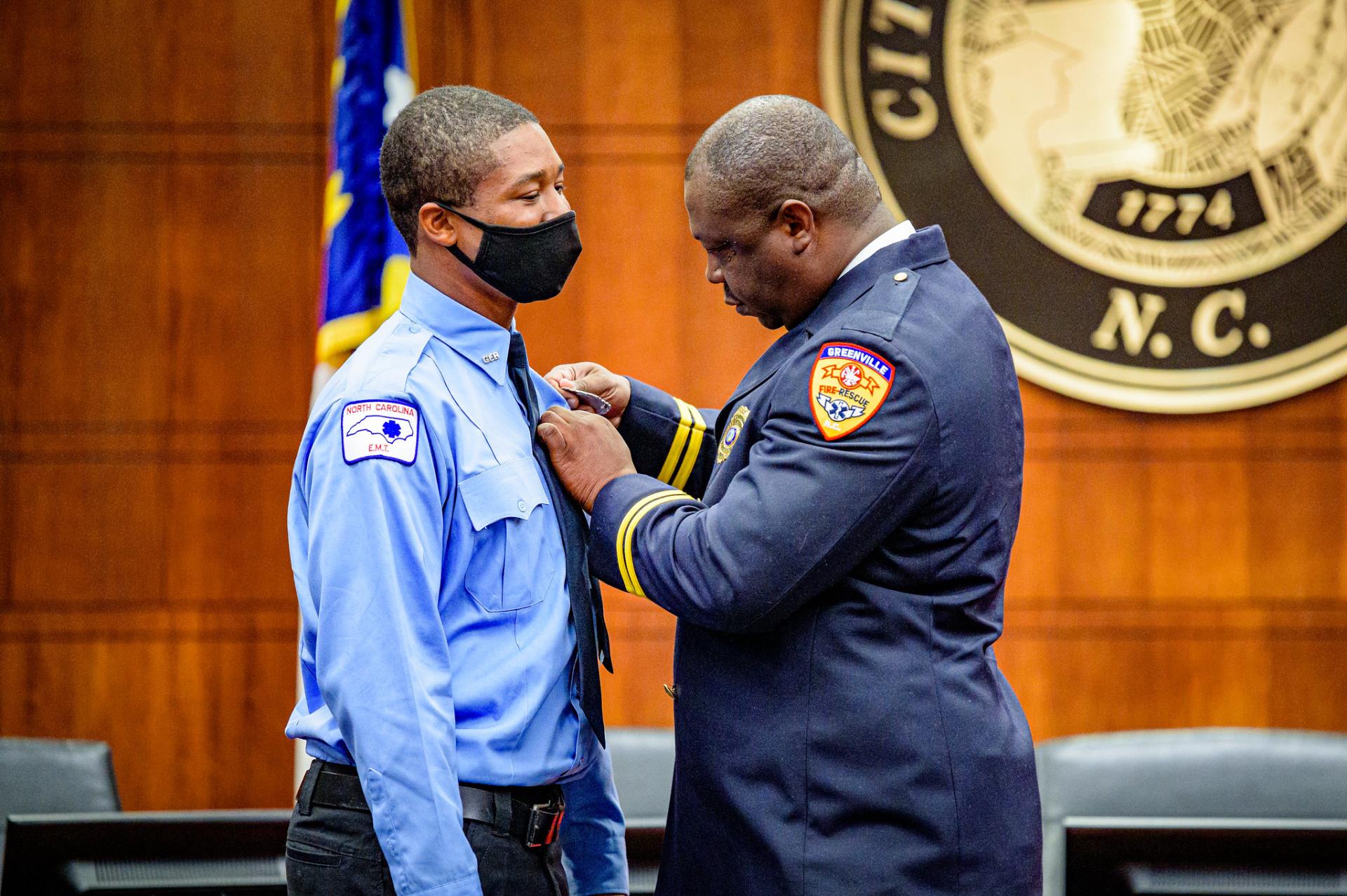 A commencement was held on July 21 in the Council Chambers of City Hall for the 16 new cadets, who received their pins from friends and family in attendance. There group joins one of the most unique departments in the state with all members being certified as both firefighters and emergency medical technicians.
"It has been a long road for us to reach this point," Cadet Danielle Perry said. "We were challenged both physically and mentally, but we did it."
Perry provided the welcome during the ceremony, while Fire/Rescue Chief Eric Griffin served as the keynote speaker. City Manager Ann Wall also welcomed the academy to the City's workforce, and awards were presented by Fire/Rescue Captain Steven West. Award winners included Asya Toney (Highest EMS GPA) and Charles Umberger (Highest Fire GPA).
"You have endured so much, and that is not to mention the challenges you will continue to endure," Griffin told the group.
The ceremony closed with the pinning of badges. New cadets receiving their badges included Chance Anderson, Tyquinn Andrews, Teon Atkinson, Cary Barnes, Nicholas Carl, Nashawn Holloway, Jordan Ingram, Elizabeth Jackson, Rasheed Love, Denver Montrose, Brittany Ragsdale, Charlotte Spigner, Jordan Suggs, Perry, Toney, and Umberger.
"This academy could not have done this without the many hands that played a part," Perry said. "We have reached the finish line. The training wheels are off, and so is the training title."
Fire/Rescue will begin training for Fire Academy 15 this fall.
Return to full list >>