Groundbreaking Ceremony Held for New Fire Station
Post Date:
10/19/2021 9:12 AM
A seventh fire station in the City of Greenville is on the way following a groundbreaking ceremony held Tuesday.
Fire/Rescue Station 7 will be located at 4170 Bayswater Road. The new station will provide shorter response times to a growing area of the city, while also offering 13,853 square feet of modern design that will enhance training and provide a safer environment for Fire/Rescue staff.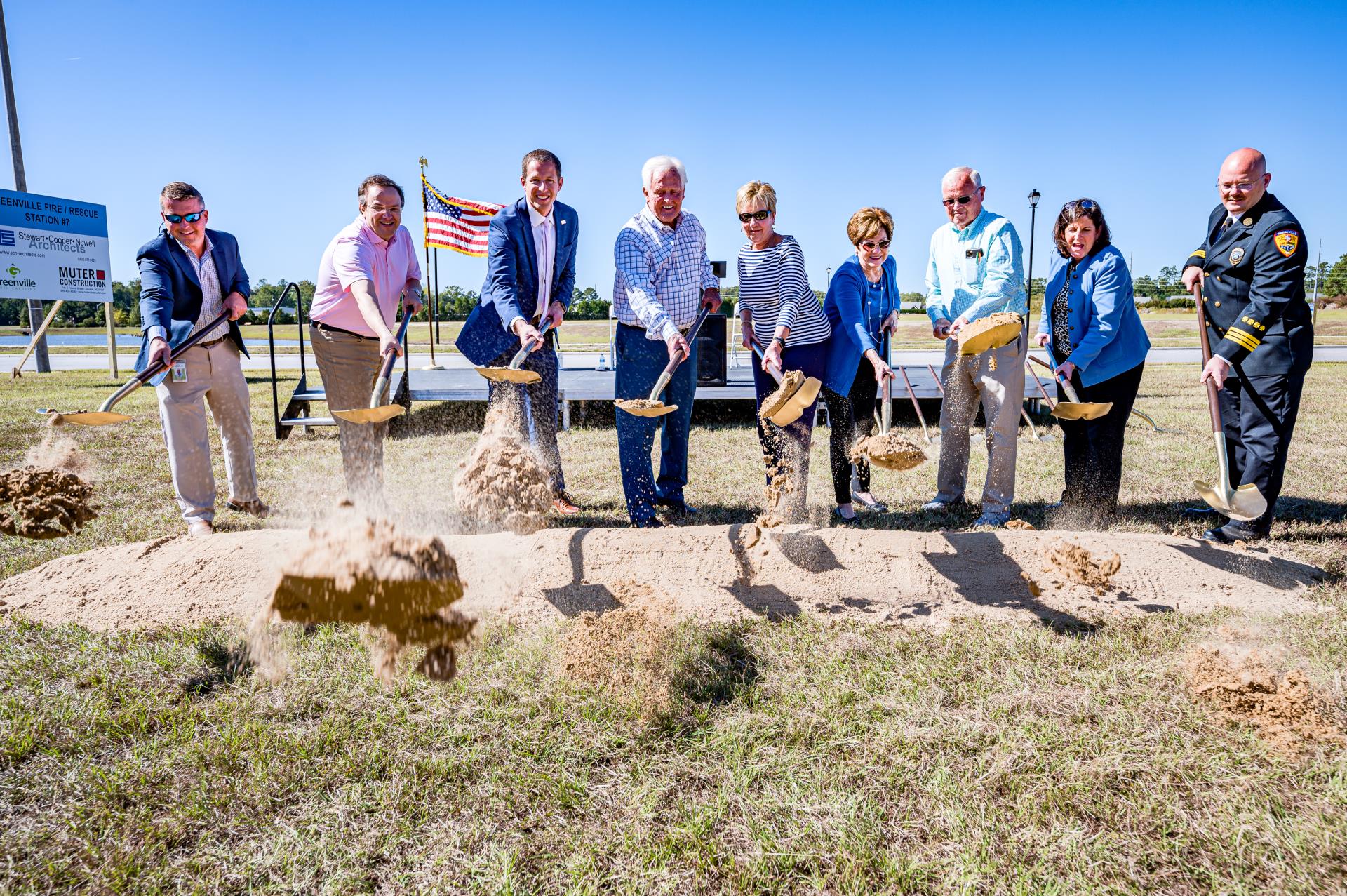 The apparatus bay of the new station will have three drive through lanes large enough to accommodate current and future fire/rescue vehicles. The station will also include seven private bedrooms with individual employee beds to provide privacy and hygiene. It is also built with a clean design to minimize exposure risks within the station and a 25-person training room.
"We recognized the need for the additional station that will help the department provide shorter response times and keep the residents and business owners in the area as safe as possible," City Manager Ann Wall said. "
The station's location was made possible through a land exchange between the City of Greenville and the Overton family, Parker and Becky, and the Lewis family, Harvey and Brenda. The exchange of properties on Bayswater allows for easier access in and out of the station and provides the City with more acreage to accommodate future growth.
As part of the land exchange, the City was also gifted a seven-acre small body of water and half-mile walking track across the street. The newly-named Lake Fire Tower was dedicated in honor of the Overton and Lewis families during Tuesday's ceremony.
"These improvements will help our department's goal to provide health, wellness and fitness opportunities throughout the Greenville community and promote healthy lifestyles through activity," Recreation and Parks Director Don Octigan said. "This open space will be beneficial to the many residents living in close proximity as well as the surrounding businesses in the area."
Return to full list >>