Greenville Fire/Rescue Dedicates New Tiller Fire Truck
Post Date:
12/20/2021 3:36 PM
The changing landscape of the center city in Greenville means public safety officials have to adapt to meet the needs of its residents and visitors. On Monday, the Fire/Rescue Department introduced the community to its newest truck that will help it do so.
A push-in ceremony was held for the department's $1.8 million tiller truck that will primarily service the Uptown District and other areas in which responders may need to maneuver through tight spots. The ceremony was held at Fire Station 1, which recently underwent a $621,00 bay expansion to accommodate the new addition.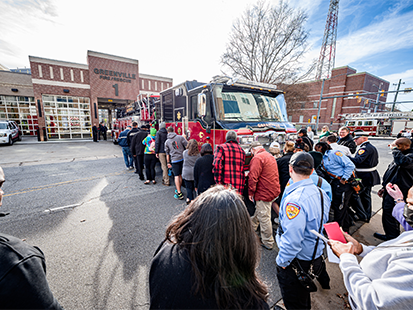 The 65-foot tiller truck requires two drivers. One driver is in the front, and one is in the back. The driver in the back can steer the truck's rear in tight turns and around corners. Crews have spent the past few months training through classroom settings, rodeo cone obstacle courses, street driving scenarios, and other trainer-led sessions.
"Public safety is a top priority for the City of Greenville, and it is important that our public safety departments are properly equipped to do their jobs effectively," City Manager Ann Wall said. "Ongoing development makes it more challenging to navigate through this urban environment. This state-of-the-art tiller truck will help us meet the needs of our residents and businesses in the Uptown District."
Push-in ceremonies are a tradition based on common practice in the 1800's when the fire apparatus was pulled by horses. Following a call, firefighters would have to disconnect the apparatus from the horses and push it back into the bay. The tradition is maintained today when a new fire engine is purchased by a department and the new engine is ceremonially pushed into the bay.
"Obviously when you look at this tiller truck, you know we have come a long way since those days," Mayor P.J. Connelly said. "However, the mission of saving lives and property remains the same for the people who do this job. With that being said, I would not want to have any other group protecting our community than the one here at Greenville Fire/Rescue."
Return to full list >>