The City of Greenville is pleased to announce the beginning of planning, environmental studies, and designs for the City's Better Utilizing Investments to Leverage Development (BUILD) Project. In July 2019, the City of Greenville applied for a BUILD Grant administered by the US Department of Transportation. The City of Greenville was awarded $15 million in BUILD Grant funds in November 2019. The BUILD Project is comprised of four greenway and sidewalk projects and three streetscape projects as listed, and shown on the map, below. Click on the headings below for more information regarding the individual projects.
Please Take Our Survey!
After reading the following information about the BUILD Project and the individual streetscape, sidewalk, and greenway projects, please be sure to complete this survey: tinyurl.com/BUILDprojectsurvey. The City would like your initial input by Friday, October 9, 2020 so that it can be incorporated into the preliminary design.
| | |
| --- | --- |
| Streetscape Improvements | Greenway and Sidewalk Improvements |
| Project C — West 5th Street Streetscape Phase II | Project A — South Tar River Greenway Phase 3B |
| Project D — West 5th Street Streetscape Phase III | Project B — Moye Boulevard Sidewalk Expansion |
| Project E — West 5th Street Streetscape Phase IV | Project F — Millennial Connector |
| | Project G — Town Common Connector |
Project Map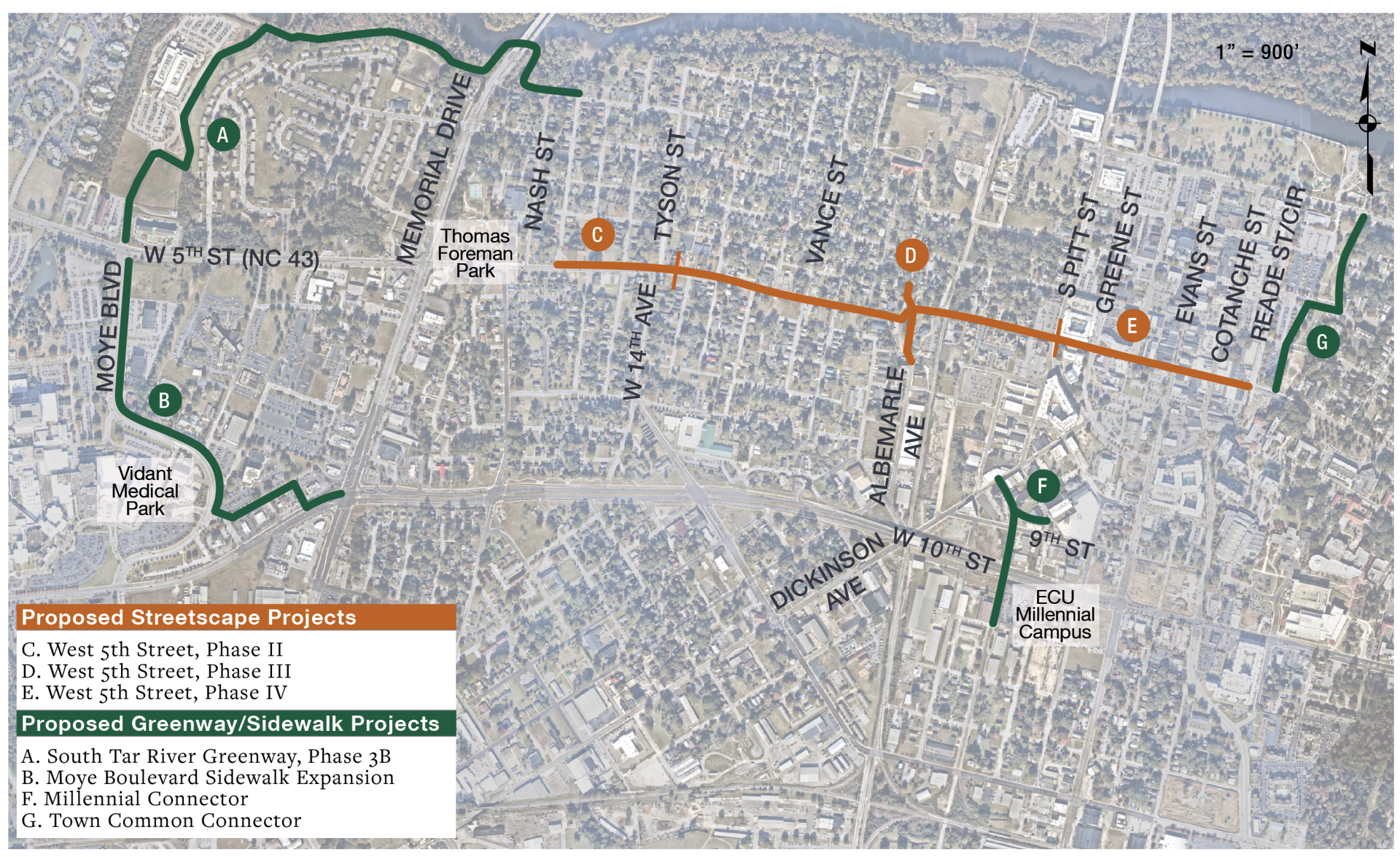 Purpose of the BUILD Project
The purpose of the BUILD Project is to transform safety, accessibility, and connectivity in Greenville's urban core. The BUILD Project will provide or enhance pedestrian, bicycle, vehicle, and transit connections between the Medical District, West Greenville, downtown, and East Carolina University. The City of Greenville intends for the BUILD Project to support its efforts to improve safety, economic opportunity, and quality of life for residents and workers in and around the heart of Greenville.
Estimated Project Cost
The $15 million in BUILD Grant funds awarded to the City of Greenville is anticipated to cover a portion of the total BUILD Project cost. The remaining costs will be funded through local funding partners: City of Greenville, East Carolina University, NC and Pitt County Arts Councils, and NC Department of Transportation (NCDOT). The City of Greenville funds make up most of those local funds.
Anticipated Project Schedule
The schedule below is preliminary and subject to change. However, all pre-construction tasks must be completed by August 2021 to meet the requirements of the BUILD Grant and receive funding. Note that individual project schedules vary. More details can be seen in the schedule graphic below.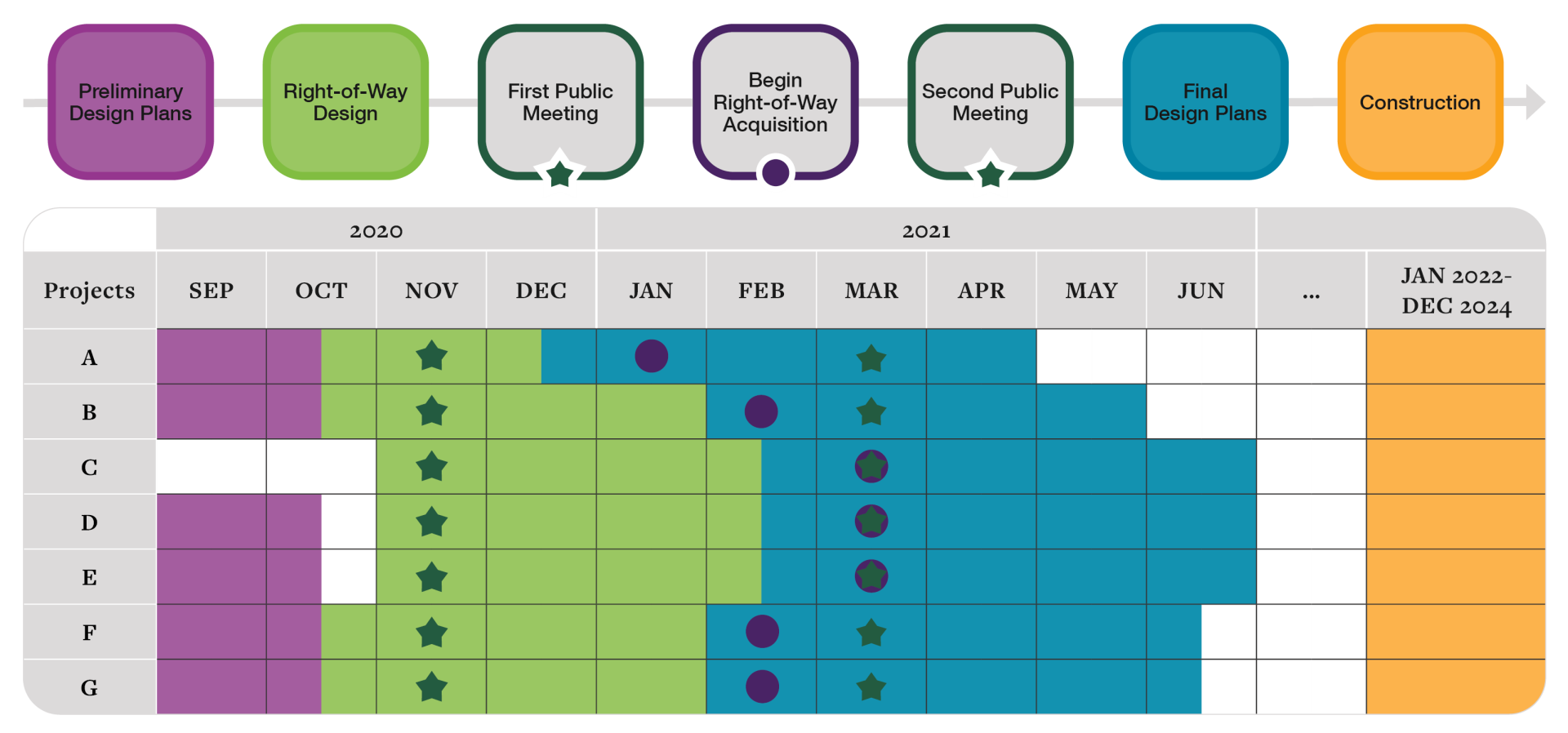 Notification of Field Work to be Conducted
As part of the design process, surveyors, environmental scientists, and engineers may be present on private properties adjacent to the project corridors in order to identify and collect information important to the completion of the BUILD Project. If you live on or are adjacent to one of the project corridors (except A or C), you should have received a newsletter notification in the mail in September 2020, indicating that this field work would soon be conducted. Note that all individuals entering your property are instructed to protect all property with which they come in contact and to cooperate fully with all property owners to prevent any incidental damage to trees, shrubs, etc. These representatives will be wearing highly reflective safety vests and may be hanging various colors of flagging, or ribbons, on trees and shrubs or on the ground to identify the limits of features such as streams, wetlands, and utilities, if present, on the property. This flagging does not indicate the location of a proposed transportation project, but it is very important in our design process. Please do not disturb this flagging.
Environmental Documentation
In order to comply with the requirements of the BUILD Grant federal funding, the City of Greenville will analyze the individual projects' anticipated impacts to natural resources such as streams, wetlands, threatened and endangered species, and anticipated impacts to community resources such as historic districts and buildings, parks, and low-income and minority populations. The findings of these analyses will be compiled in federal Categorical Exclusion (CE) documents compliant with Federal Highway Administration guidelines and National Environmental Policy (NEPA) Act regulations. Project A, the South Tar River Greenway Phase 3B, will update the CE completed in November 2013 as part of the NCDOT STIP Project EB-5539.
Questions?
For more information, contact the City of Greenville Public Information Office, Jordan Anders, at janders@greenvillenc.gov.