10th Street Pedestrian Crossing Feasibility Study
Study Background
The City of Greenville is currently undertaking a feasibility study of a new pedestrian crossing option across 10th Street, between Dickinson Ave and Evans Street. The City is considering short- and long-term options to facilitate a safe and effective crossing for pedestrians and cyclists. The project will complement the soon to be constructed Millennial Connector multi-use path and will help connect Downtown Greenville to the planned Intersect East as well as other developments planned south of 10th Street.
The City hosted a public meeting to share the project with citizens, residents and students that may benefit from or have input on this planned project. City staff, along with their consultant partners for the study, were available to discuss the project background, need, design options and to receive any feedback the public may have to offer. The meeting was run as an open house with stations to visit and team members available for discussion and questions; there was not be a formal presentation at this meeting. The materials available at the meeting included general project background and initial design concepts. A handout with all information included, as well as the display boards, are linked below:
Anyone wishing to submit input, can do so until October 25, 2022 by filling out the comment option below, or submitting via email/USPS mail to the project contacts using the comment form below.
Following the close of the comment period, a response to comments will be posted to this web site.
At-Grade Options
The Federal Highway Administration recommends pedestrian safety countermeasures based on roadway configuration, posted speed limit, and daily traffic volumes. For the conditions along 10th Street, two options are being considered: a median refuge island and a Pedestrian Hybrid Beacon.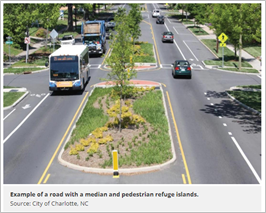 Median Refuge Island
A median is the area between opposing lanes of traffic, excluding turn lanes. Medians in urban and suburban areas can be defined by pavement markings, raised medians, or islands to separate motorized and non-motorized road users.
A pedestrian refuge island (or crossing area) is a median with a refuge area that is intended to help protect pedestrians who are crossing a road.
Pedestrian Hybrid Beacon (PHB)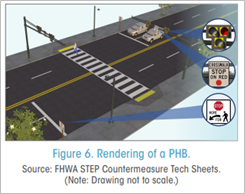 A Pedestrian Hybrid Beacon (PHB) is a traffic control device used to increase motorists' awareness of pedestrian crossings at uncontrolled marked crosswalk locations. A PHB is distinct from pre-timed traffic signals and constant flash warning beacons because it is only activated by pedestrians when needed.
According to FHWA's Pedestrian Hybrid Beacon Guide, PHB's can reduce pedestrian crashes by 69% and total crashes by 29%. Because PHBs remain dark until activated, they can help increase driver attention to pedestrians crossing the roadway and can reduce rear-end collision, which are also already prominent along this corridor. PHBs also are more effective than RRFBs for roadways with higher speeds.
Grade Separated Options
Grade separated pedestrian crossings could also be a good long-term option at this location depending on available land, funding options, and the increase in pedestrian traffic seen. Below are two examples of gateway pedestrian bridge renderings; a similar bridge could be used to cross 10th Street separated from vehicular traffic.