Residents Encouraged to Practice Fireworks Safety
Post Date:
06/26/2020 3:54 PM
GREENVILLE, N.C. — Greenville Fire/Rescue officials are taking steps to make the upcoming Independence Day holiday a safe one for all residents.
While lighting up the sky is a common way to celebrate the holiday, Fire/Rescue Captain Alfred Everington says approximately 10,000 injuries occur each year and nearly 20,000 fires are started annually due to fireworks. However, there are steps that individuals can take to limit the risk.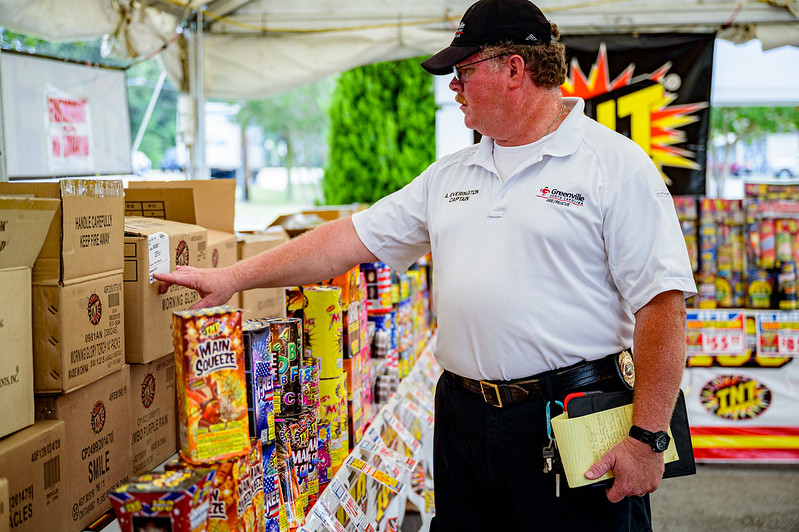 "It's very important, if you're using fireworks, not to be consuming alcohol," Everington said. "Make sure you have a water source nearby, whether it be a water hose or a bucket of water, and make sure you do it well away from any combustible materials."
Children ages 10-14 account for approximately half of the emergency room visits due to injuries from fireworks. Sparklers, while assumed to be safe, account for almost a quarter of those emergency room visits.
Everington encourages the community to ensure that fireworks are handled by a responsible adult and kept away from children. He noted that safe alternatives to pyrotechnics include silly string, glowsticks, and noisemakers.
The following tips for fireworks safety are recommended:
Don't use fireworks such as ground spinners, firecrackers, round spinners, Roman candles, bottle rockets, and mortars.
Don't use fireworks near dry vegetation or any combustible material.
Don't aim fireworks at trees, bushes, or hedges where dry leaves may ignite.
Make sure fireworks are always used with adult supervision.
Follow instructions provided with fireworks.
Do not use fireworks under the influence of alcohol.
Have a rake or shovel and a water source nearby.
Ensure all burning material is completely extinguished afterward and monitor the area for several hours.
Return to full list >>